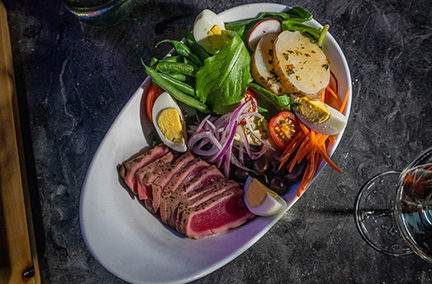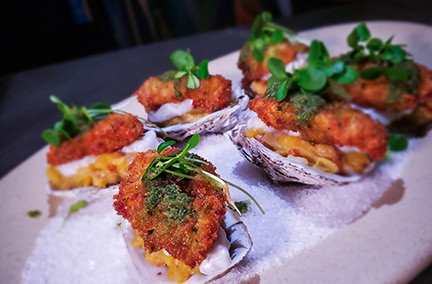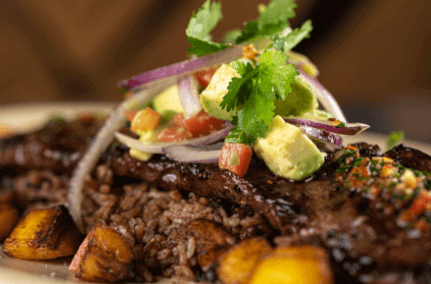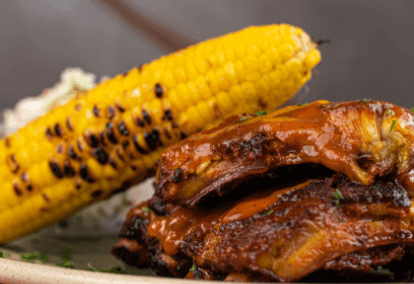 Pulpo Gallego $16
Crispy potato, garlic chimichurri, spanish paprika 
Shrimp Ceviche $13
Roasted tomatoes, roasted jalapeños, citrus juice, avocado, onion, cilantro
Papas bravas $11
Crispy potatoes, Cayenne pepper, roasted garlic, alioli, roasted peppers
TRADITIONAL GUACAMOLE $11
Tomatoes, Onion, Jalapeños, cilantro, lime juice, corn chips
Seafood mixed ceviche $16
Leche de tigre, Shrimp, Scallops, Octopus, Calamari, Mussels, Clams served with Sweet Potatoes, Mote, Avocado, Cilantro & Red onions
Garden oysters $17
Fried Oysters, Coconut Tapioca Stew, Bacon sweet plantain puree & Fresh mint Jalapeño Sauce
Mix and match baked empanadas $11
Beef, chicken, Spinach
Served With our Signature Spicy Garden Sauce
Fried Calamari $13
Served with chipotle garlic mayonnaise
Tacos
3 Tacos per Order served with our signature Mexican green & red sauce
Marinated chicken with Onion, Cilantro, Salsa
Premium grilled steak, Onion, Cilantro
Steak and Garlic Shrimp $13
Fish Tacos $14
Mahi Mahi fish fillet, Pinto refried beans, Cabbage, Carrots, Red Onions, Slaw, Cilantro & Creamy Chile De Arbol Sauce
Pork shoulder, Guajillo chiles, Mexican spices, Grilled pineapple, Onion, Cilantro
Shrimp Tacos $14
Garlic shrimp, Guajillo sauce, Onion, Cilantro, Salsa
Veggie $9
Mixed grilled vegetables, Mexican spices, Queso fresco.
Nicoise Salad $15
Blackened Pan Seared Tuna, Mesclun Greens, Avocado, Carrots, Red onion, Roasted potatoes, Green beans, Boiled egg, Cherry Tomatoes, Nicoise Olives served with Chimichurri Vinaigrette
Caesar salad $10
Romaine Lettuce, Garlic Croutons, Parmesan Cheese, Caesar Dressing
Add protein:
Chicken $5
Steak $7
Shrimp $7
Salmon $7
Churrasco El Jardin $29
12 Oz Grilled Skirt Steak,Sweet Plantains, Chimichurri Served With Arroz Moro & Avocado Salad.
Guava ribs $21
5 Hour Cooked Tender Pork Ribs, Maple Syrup, Guava Habanero
BBQ Sauce, Coleslaw, Grilled Corn on the Cob & Frijoles Charros.


classic burger $15
8oz ground top sirloin patty, lettuce, tomatoes, red onions, pickles, cheddar cheese.
*Served with French fries


chinese fried rice $14
Fried rice, broccoli, peppers, eggs, carrots, soy sauce
Add chicken $3
Add Steak $5
Add shrimp $6 

NY Strip Steak $27
12 oz Grilled NY strip steak, chimichurri served with two sides

1/2 Rotisserie chicken $17.95
Marinated in our secret recipe served with mashed potatoes & Roasted vegetables
Thai Salmon $22
Teriyaki glazed salmon, Thai noodles, mixed vegetables & sriracha sauce
Fried Sweet Plantains
Mash potatoes
French fries
Truffle Parmesan Fries
Sauteed Vegetables
Fried Yuca
Arroz Moro
Side Garden salad
Chocolate Nutella & Arequipe Ganache Cake
Orange infused Churros & Arequipe on the side